Hi everyone,
I recently won a CALI award from Five Point Five and wanted to share my interview with you all.
The CALI Award is awarded to inspiring people who are recognised for their leadership in creating positive change for people or the world around us. CALI Award recipients are willing to do what it takes to make a difference and celebrated for what they are – modern day heroes.
CALI stands for: Community, Action, Leadership and Inspiration
Five Point Five is all about inspiring you to do those things that you will remember with fulfilment for the rest of your life. They bring you stories that will (hopefully) inspire you to make the most of the time you have on this little blue planet! So check out their website.
Thanks to the Five Point Five team x Andrea
Andrea Fairbairn – Winner of the CALI Award
The CALI Award is awarded to inspiring, awesome people who are creating positive change. We bring you every day heroes, who are making the world a better place.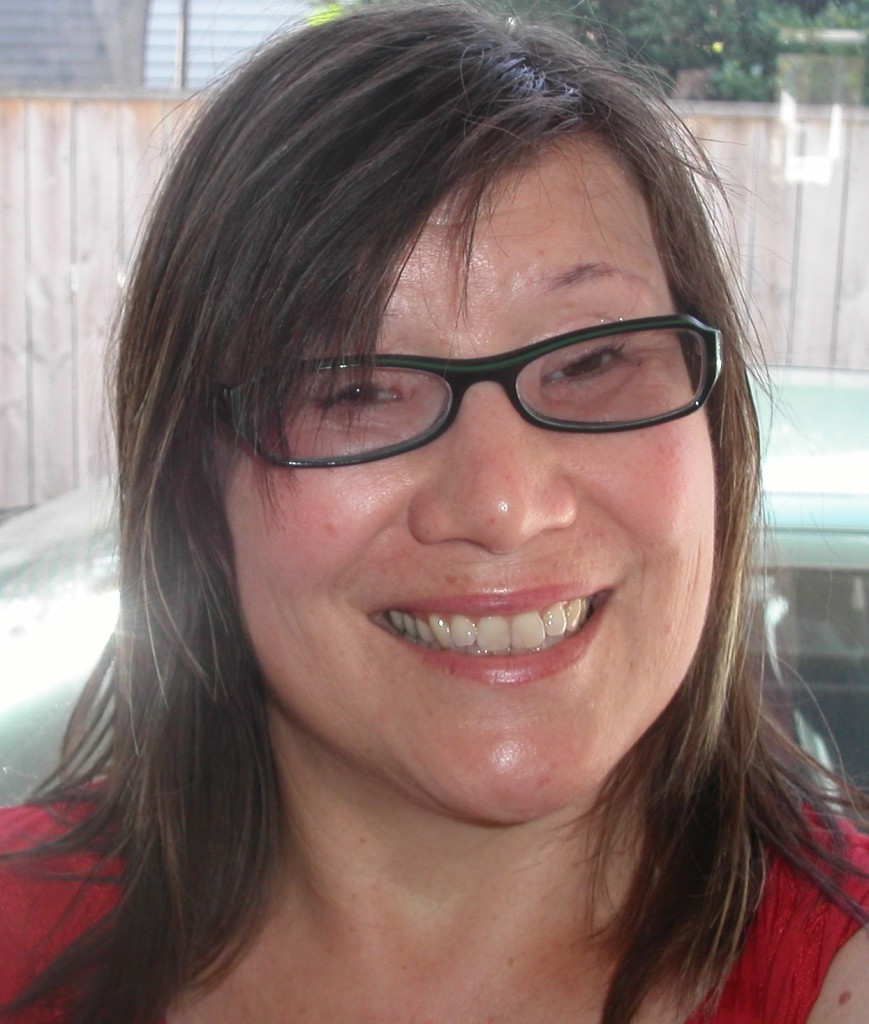 Andrea Fairbairn – Winner of the CALI Award
Our newest CALI Award winner is Andrea Fairbairn. Andrea is a two time breast cancer survivor, who founded Breast Cancer Nirvana with the aim of supporting women going through breast cancer and providing resources for their friends and family too.
Andrea bravely blogged through her mastectomy and breast reconstruction, kept a 'chemo diary' and now a 'moving forward diary'; documenting what it is like to have breast cancer, recovering from it and moving on with life.
Q: Tell us about Breast Cancer Nirvana.
Andrea: Breast Cancer Nirvana is a one stop shop for people affected by breast cancer. It has tips and hints for women going through breast cancer as well as resources for people supporting them.
I added the word Nirvana as I want people to feel peaceful and supported when they came to the website. And also to feel inspiration and hope that they can get through breast cancer!
I want people to see that breast cancer could have a positive ending and potentially affect their lives for the better long-term (obviously not for all women sadly, but for many of us, we have a second chance with our lives).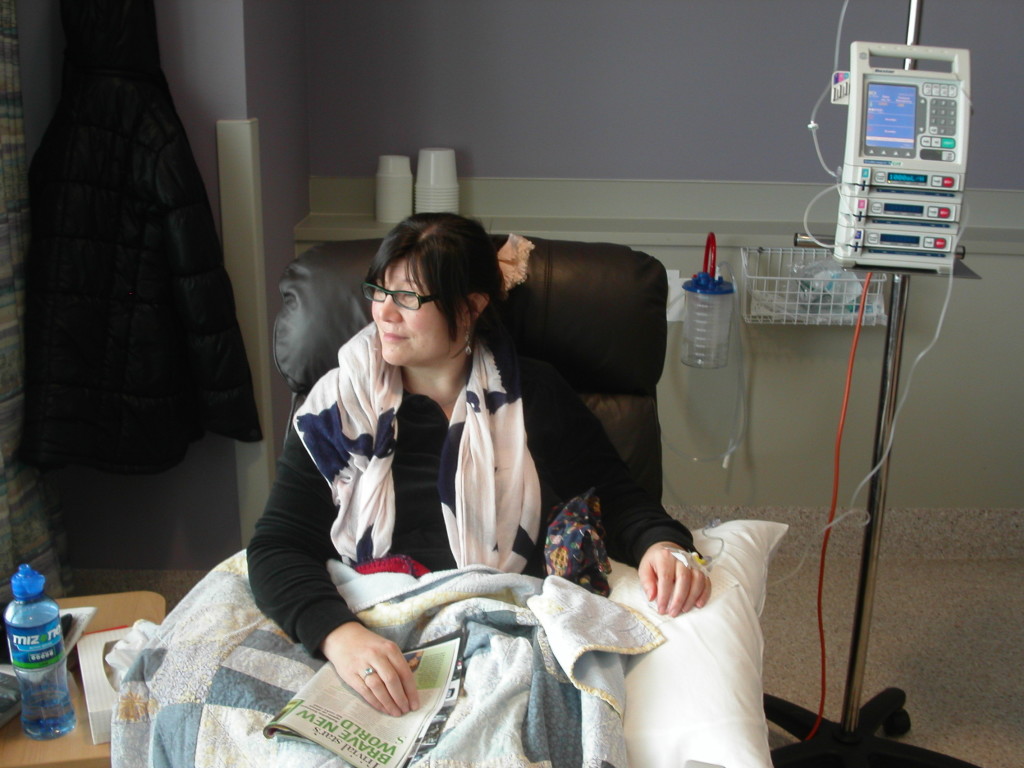 Having chemo – Even when I was feeling very ill, I felt compelled to write
Q: What made you decide to start Breast Cancer Nirvana?
Andrea: I started Breast Cancer Nirvana kind of by accident with a few mystical twists and turns thrown in.
In 2011, I was diagnosed with breast cancer for the second time.  Apart from the shock, I had a clear knowing that I had learned almost everything about breast cancer with the first diagnosis in 2007 at the age of 39. This time, part of the purpose of my breast cancer was to help others.
I decided to keep a blog of what it was like to have a mastectomy and breast reconstruction. It was incredibly therapeutic for me as well as great to keep my friends and family informed of what was happening with me.  With a blog, I only had to tell my story once, not repeat it many times to different people.
Then I happened to read an article about Serena Star Leonard and her Website Launchpad course.  I emailed Serena and talked to her about my ideas about starting a breast cancer website with loads of resources. Serena was really enthusiastic and supportive about my ideas and I decided to do the course as I started doing chemotherapy!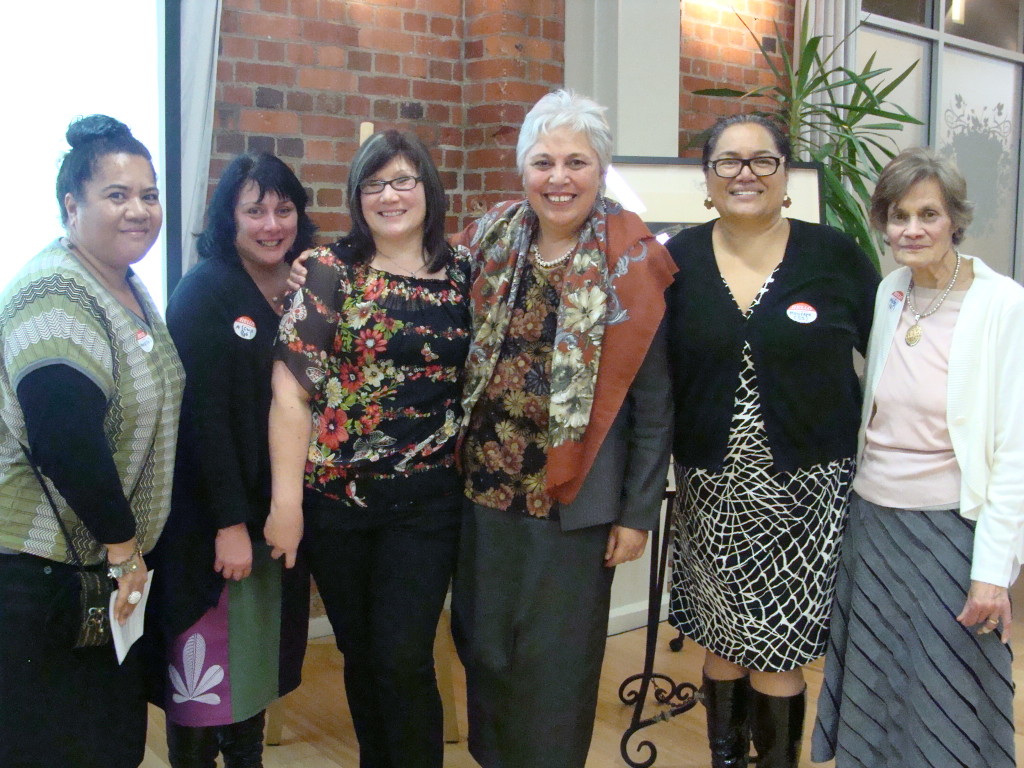 Family and friends at BCNirvana launch. Photo Richard Taylor
Serena suggested I keep a Chemo Diary that time, to help others see what it was really like to go through it.  She always stressed that honesty was most important but also, to leave people with positives and tips on what has helped me get through breast cancer and the treatments.
So Breast Cancer Nirvana was born and I still feel driven to keep delivering the truth of what breast cancer is really like and document many women's inspiring stories of breast cancer survival. I also have a tonne of resources for people affected by breast cancer and currently, I keep a Moving Forward Diary, documenting what it is like to be in recovery from breast cancer and moving on with life.
Q: What are you aiming to achieve?
Andrea: Research shows that women with more quality support and relationships have higher breast cancer survival rates.
My aim is to be part of that support system for women going through breast cancer and providing resources for the friends and family too (the supporters).
I want women going through breast cancer to feel support, inspiration and hope that breast cancer can be survived and that their lives will be just as good or better post-breast cancer. I also hope that friends and families of breast cancer survivors feel informed, supported and resourced to cope with breast cancer as well. Cancer is very difficult on our loved ones.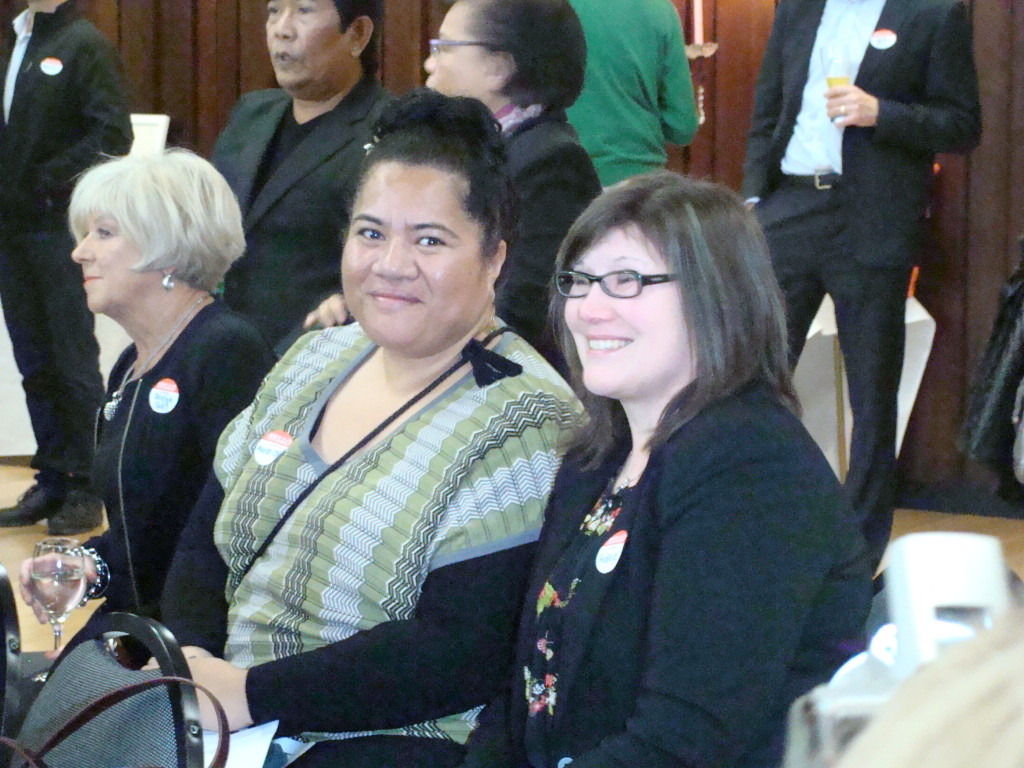 Andrea at her Charity auction with friend Moera. Photo Richard Taylor
I guess part of the aim is to start a different conversation about cancer. It affects one in three people directly but there is something hidden or taboo about cancer. Breast Cancer Nirvana brings the reality everyday-ness of cancer out of the closet to reduce uncertainties for those navigating the unknown cancer world.
I am also part Samoan and hope to provide more Pacific breast cancer resources in the future.
Q: What are some things you are really proud of?
Andrea: I have had quite a few breast cancer survivors contact me asking questions directly, which I feel honoured to answer.  The Cancer Society asked me to write for their newsletter, which was great as it reached thousands of people affected by cancer.
But I am most proud of a fundraising event that Breast Cancer Nirvana hosted last year. At the official launch of the Breast Cancer Nirvana website, we hosted a charity auction with funds raised going to theCancer Society in New Zealand.  I think the Cancer Society provide great support services so wanted to do something for them.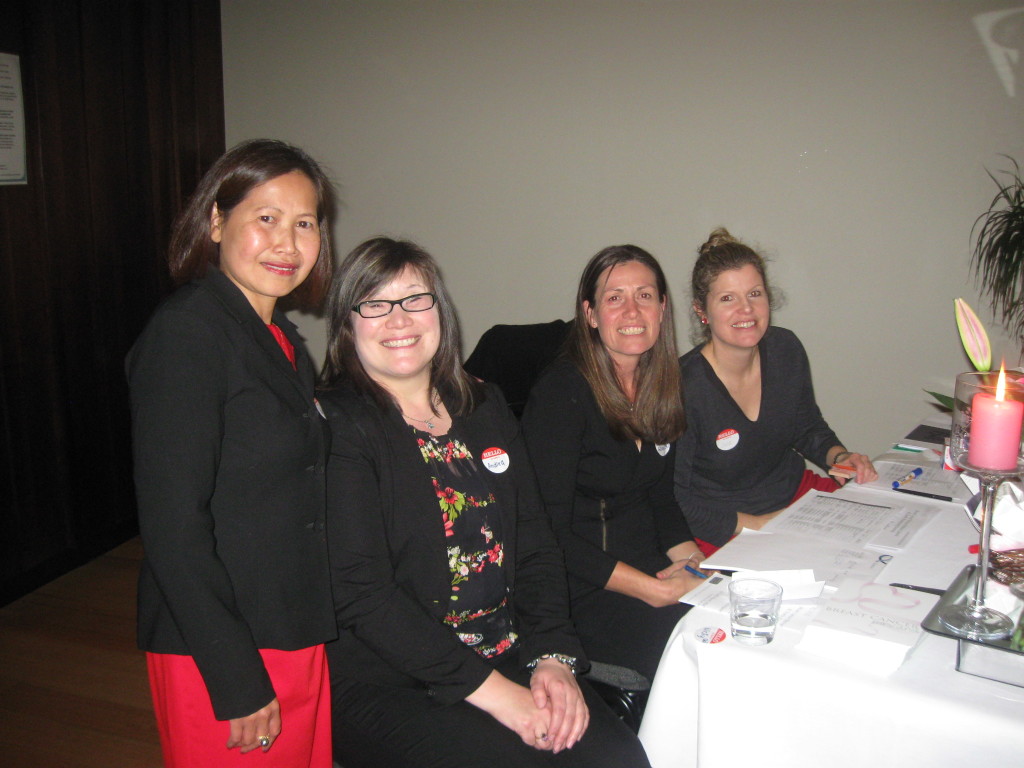 Andrea and her volunteer team at the website launch
A fantastic volunteer team helped put it all together and many New Zealand businesses generously donated products and services for the worthy cause.  Through that process, a lot more people learned about cancer, breast cancer and my website.  It was win/win for everyone and we all felt that we had made a very positive difference in the world.
I also had to step up and lead that event, make a speech and do radio interviews and later a TV interview with Tagata Pasifika. While receiving my last Herceptin infusion (a type of chemo) in hospital, I had a cameraman recording the event and a producer interviewing me.
I wanted people to see what having chemo was really like and hoped that it would reduce fear in those Pacific Islanders who were putting off a mammogram or receiving cancer treatment.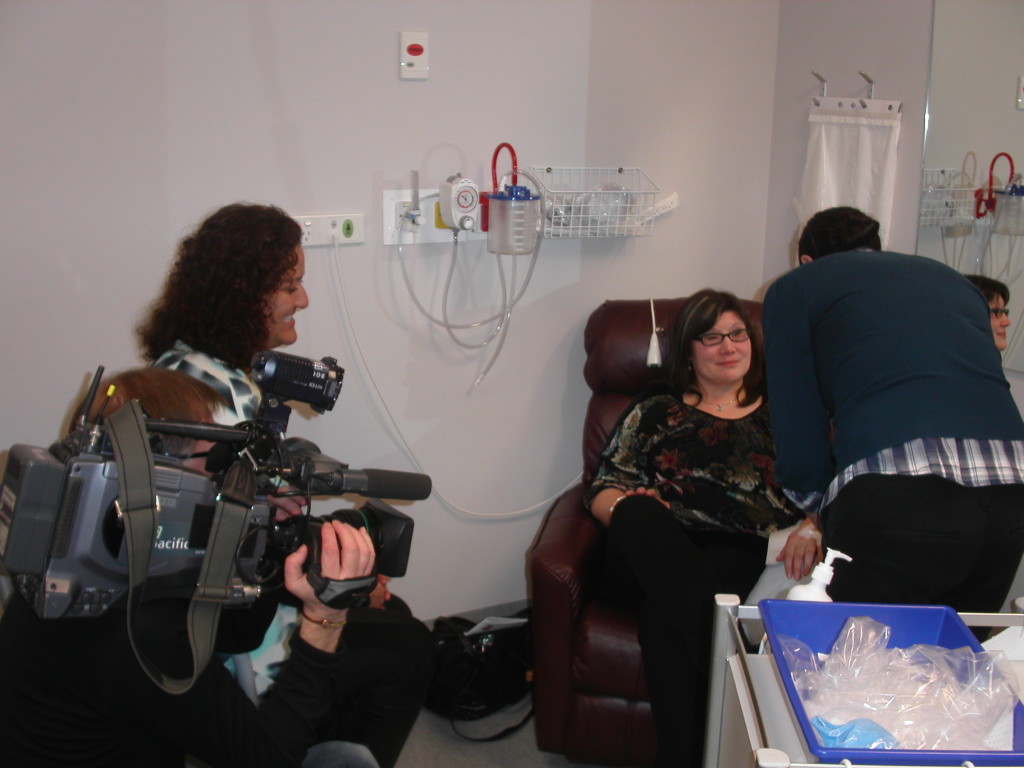 Receiving Herceptin treatment and being interviewed by Tagata Pasifika
Q: What is one thing you wish everyone knew about breast cancer, or cancer in general?
Andrea: That with the advancements in treatments today, the vast majority of people survive breast cancer and cancer. It is so important to have hope and heaps of support around you! Ask for support when you need it and accept offers of support. Cancer isn't fun but post-cancer, life can be very rewarding as we are given a second start at life .
Q: What motivates you?
Andrea: That's an interesting question. I just don't know. Even when I was feeling very ill, I felt compelled to keep going with my writing. There is something about Breast Cancer Nirvana, which feels like part of my life purpose.
I am back working in my day job but I have a vision for Breast Cancer Nirvana, which I would like to see through. It is definitely for love not money and brings me a huge amount of satisfaction in getting the content on my site plus feedback from others.
I have always wanted to make a positive difference in the world, which is why I got into international aid and development – managing aid projects in developing countries.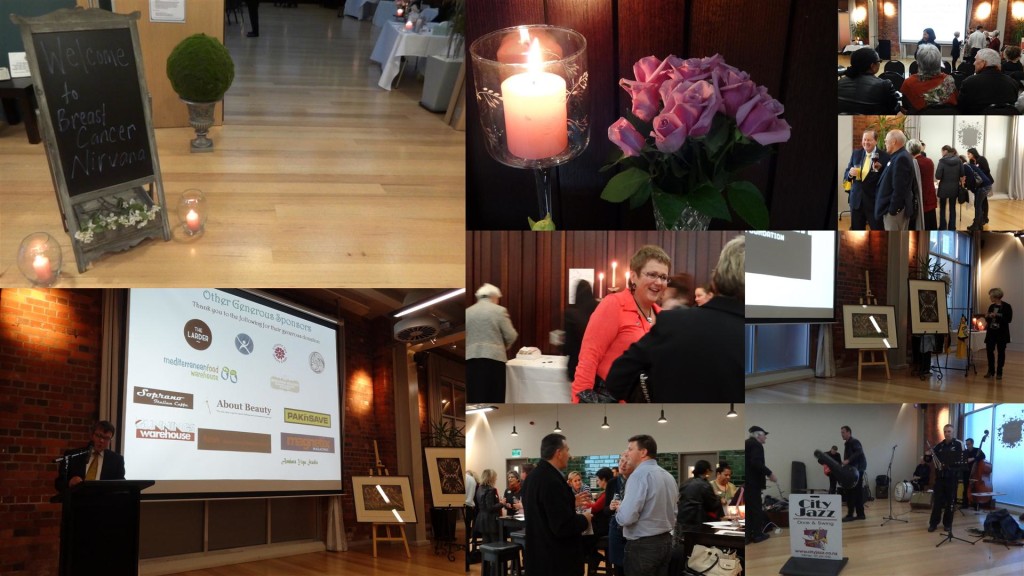 Breast Cancer Nirvana website launch. Photos by Rochelle Stewart Allen
Q: Do you feel there is reward in your efforts?
Andrea: Yes there is reward but it is different than the traditional rewards of working.
I have had lots of positive feedback about the site from women going through breast cancer and other cancer specialists and organisations.  But the reward comes from creating a beautiful website that helps others and doing something that I feel 100% happy with.
There is a lot of personal development as well as professional development involved in creating a successful website.  I have made lots of new friends and see my career and life differently now.
I have a part time day job, which is really interesting and then a part time website, which is now part of my life.  I hope that I can grow Breast Cancer Nirvana so that it adds even more value and support to others and I look forward to having to grow as a person to make that happen.
 Q: If you had your way, everyone would spend 5 minutes a day…
 Andrea: In some kind of spiritual or meditation practice plus helping those in need!
Andrea is a two time breast cancer survivor and creator of Breast Cancer Nirvana.  She blogged her way through a mastectomy and breast reconstruction, chemotherapy and now a diary of what it's like to move forward from breast cancer. 
Andrea also works in the international aid and development field managing aid programmes and projects in Asia and the Pacific.  Andrea has worked overseas in Brazil, Azerbaijan and Canada but resides in her hometown of Wellington, New Zealand.
 Connect with Andrea: